Active wheelchair users are often seen in rearward angled or raked seats, this is because an angled seat provides better trunk stability and improved pushing forces.

A horizontal seat however provides good pressure distribution with a neutral pelvic position.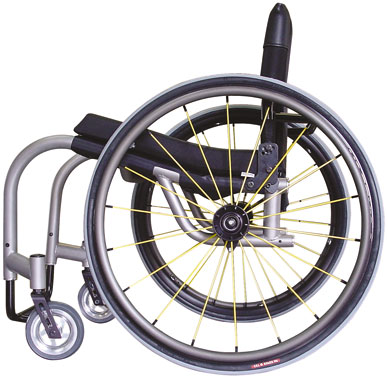 The ergonomic seat combines both horizontal and angled seating to give both benefits. The ergonomic seat is angled, except for the back section, which is horizontal. The backrest is vertical and includes a rear-angled section at the top.

The Ergo Seat Length is choosen so that the buttocks of the neutrally placed pelvis are seated horizontally. The angled part of the seat creates a 'ischial support', preventing the pelvis from sliding forward, creating bad posture.

On the Backrest we have created a 'ischial support' for the bottom of the pelvis. Then we create a 'sacral support' at the rear, to prevent the pelvis rotating rearward, which would create a round lumbar spine, a kyphatic posture.

Because of the variation in your wheelchair rake, back angle and back height and the different support requirements for different disabilities, these measurements should be discussed between your therapist and a professional Melrose script writer.


The Melrose Ergo Seating System can be built into the design of most of the Melrose range of chairs.